Book now!
Relax and unwind on the green outskirts of the city
Come in to the cozy Auszeit Hotel in the south of Hamburg. What is so different about us? We are an innovative hotel for modern travelers who like to move with the times - but at the same time love the personality and individuality of a privately run hotel. With us you will find a perfect mix of both: smart technologies such as mobile check-in and mobile room key, which save you important time - as well as personal and individual advice. You can easily reach the center of Hamburg by S-Bahn, which is directly and within walking distance from the hotel. Only a short walk away begins the Fischbeker Heide with the Heidschnuckenwanderweg and with the wheels you start to designated tours in the regional park Rosengarten or Northern Europe's largest fruit-growing area, Altes Land. Welcome to your time out in Hamburg.
What makes the Auszeit Hotel unique
Personal and individual advice
is very important to us. We will be happy to advise you before your arrival and during your stay. You can reach us personally at reception on weekdays from 07:00 to 18:00. On weekends and public holidays from 08:00 to 15:00. You can also send your questions and requests easily and conveniently at any time to: buchung@auszeit-hh.de. You should definitely not miss out on taking a look at our digital guest folder. It contains lots of information about your Auszeit (time out).
Excellent breakfast
We love and live breakfast. Freshness & regionality in the selection of ingredients is a special concern for us. We celebrate this morning ritual in peace and serve you the best BIO delicacies from the region. And what we don't get from our partners is made by the good spirits of the kitchen themselves. So you should definitely not miss our BIO & regional breakfast buffet. It is always praised in the majority of our reviews.
Comfortable online check-in
To make it as easy & convenient as possible for you, you will receive an email the day before your arrival to fill in the legally required registration form. Once you have sent us all the data, you will automatically receive another e-mail on the day of arrival, informing you that your room is now ready for you. Even if you plan to arrive during our opening hours, it saves you valuable time off. You can arrive at any time, regardless of our reception hours. Your smartphone opens all the doors for you. Still unsure? HERE you can find out how everything works.
Your mobile phone opens the doors
Goodbye, annoying search for the room card. With us, your smartphone becomes your door opener, without having to download an app. And you always have it with you, don't you? All we need is a personal e-mail address for each room, which you can also receive on your mobile phone. Are you travelling as a couple? Forward the email to your room partner. This way, he or she will also have access to all areas. Unsure how it works? Take a look HERE!
Arrival around the clock
With our convenient online check-in and access via smartphone, you are completely free in your arrival time. Even around the clock! Your room is guaranteed to be ready for occupancy from 3 pm. Of course, we will be happy to welcome you personally at the reception. During the week we are there for you from 07:00 to 18:00. At weekends and on public holidays we are open from 08:00 to 15:00.
Sustainability - Our matter of the heart
And that's not just a figure of speech. We deliberately do without energy-guzzling minibars in the rooms - instead, cold drinks are available at any time in our trusted fridge in the breakfast room. Our digital guest journey with mobile check-in, smartphone as room key, digital guest folder and invoice dispatch by e-mail saves us a lot of paper - and you a lot of time. Our entire sustainability commitment has been rated Level 3 by the Green Sign Institute.
Free parking for direct bookers worth €12.50
As a direct booker, our in-house underground car park with 25 spaces is available to you free of charge during your stay. The entrance height is 1.95 m. Unfortunately, we cannot make a reservation. All other guests who have booked through an online travel agency will be charged € 12.50 per night. Booking directly at the Auszeit Hotel means generating advantages.
5% bonus for online booking
Simply & conveniently book your time out on our website! And at the best conditions. We reward you with a 5% discount. Because, all the relevant data that you have to provide when booking online, we would also need when booking by e-mail or telephone. You take a little work off our hands and we reward your effort with a discount. Booking directly at the Auszeit Hotel means generating advantages.
E-charging stations
In our own underground car park there are 2 Wirelane e-charging points, each with 11KW charging current, at your disposal. While you are enjoying your time out, your four-wheeled vehicle is recharging for the journey home or onwards. We currently charge € 0.59 per KWh. Our modern payment system allows you to pay conveniently by EC or credit card. Of course, you can also park your e-bikes in the underground car park and charge them free of charge at the same time.
Comfortable Online-Check-Out
You are in a hurry on the day of your departure? From 06:00 you have the possibility to leave comfortably. You will receive an e-mail with the option to pay your bill online with your credit card. After that you can leave and you will receive your bill by e-mail.
Of course we would be happy to see you off in person. However, our reception times, from 07:00 on weekdays or 08:00 on weekends and public holidays, do not always fit into your plans. However, we are happy to be able to offer you a solution for all situations.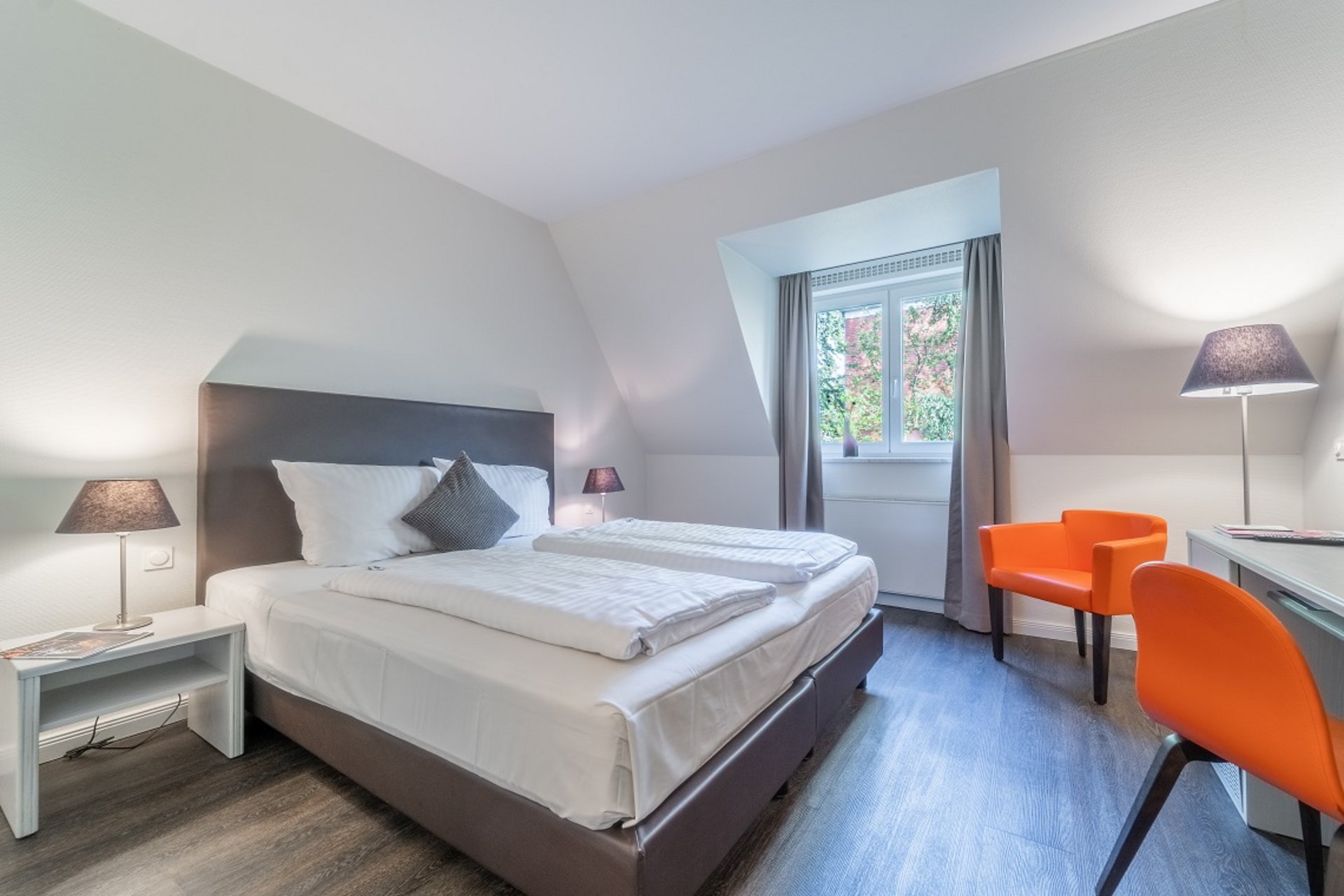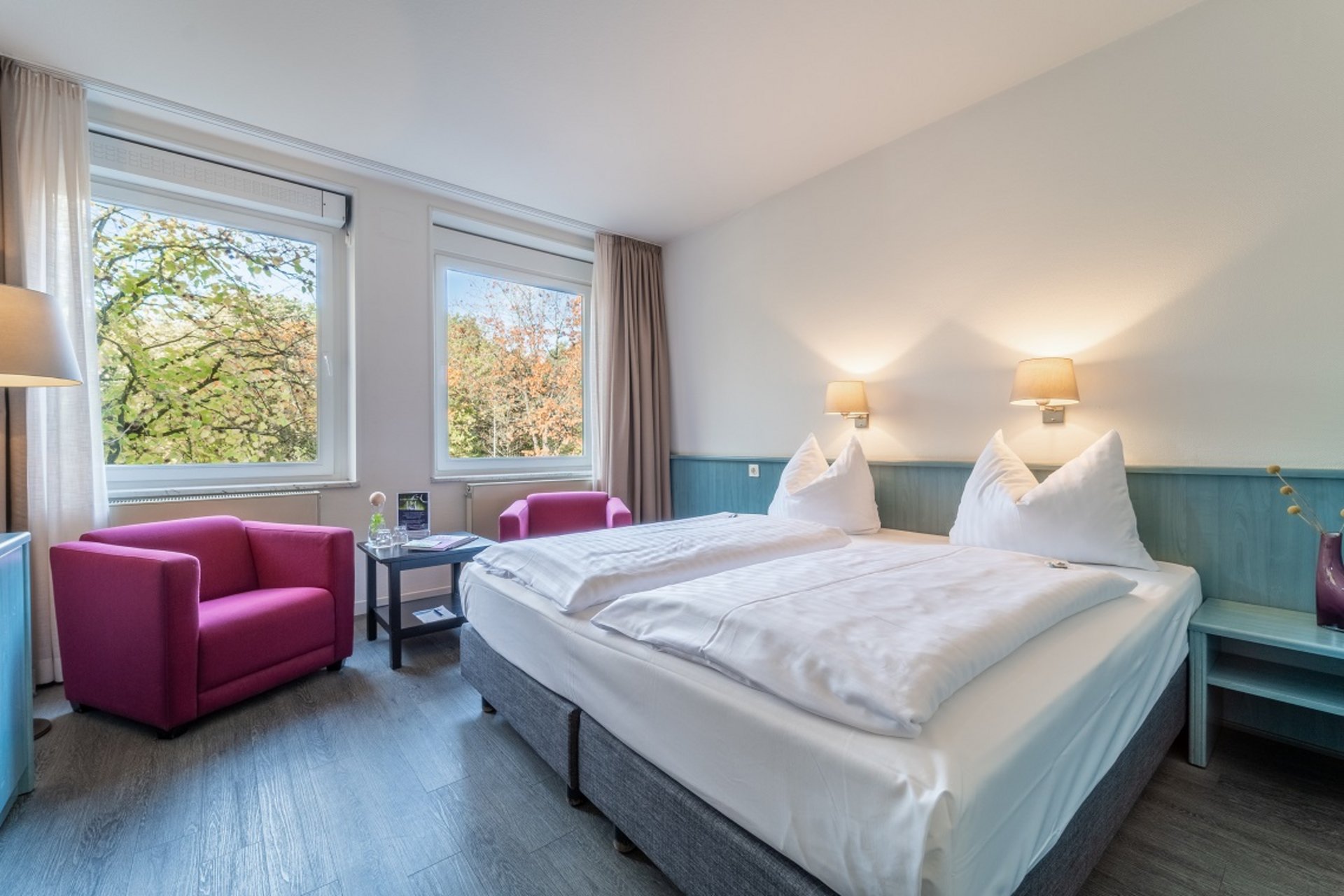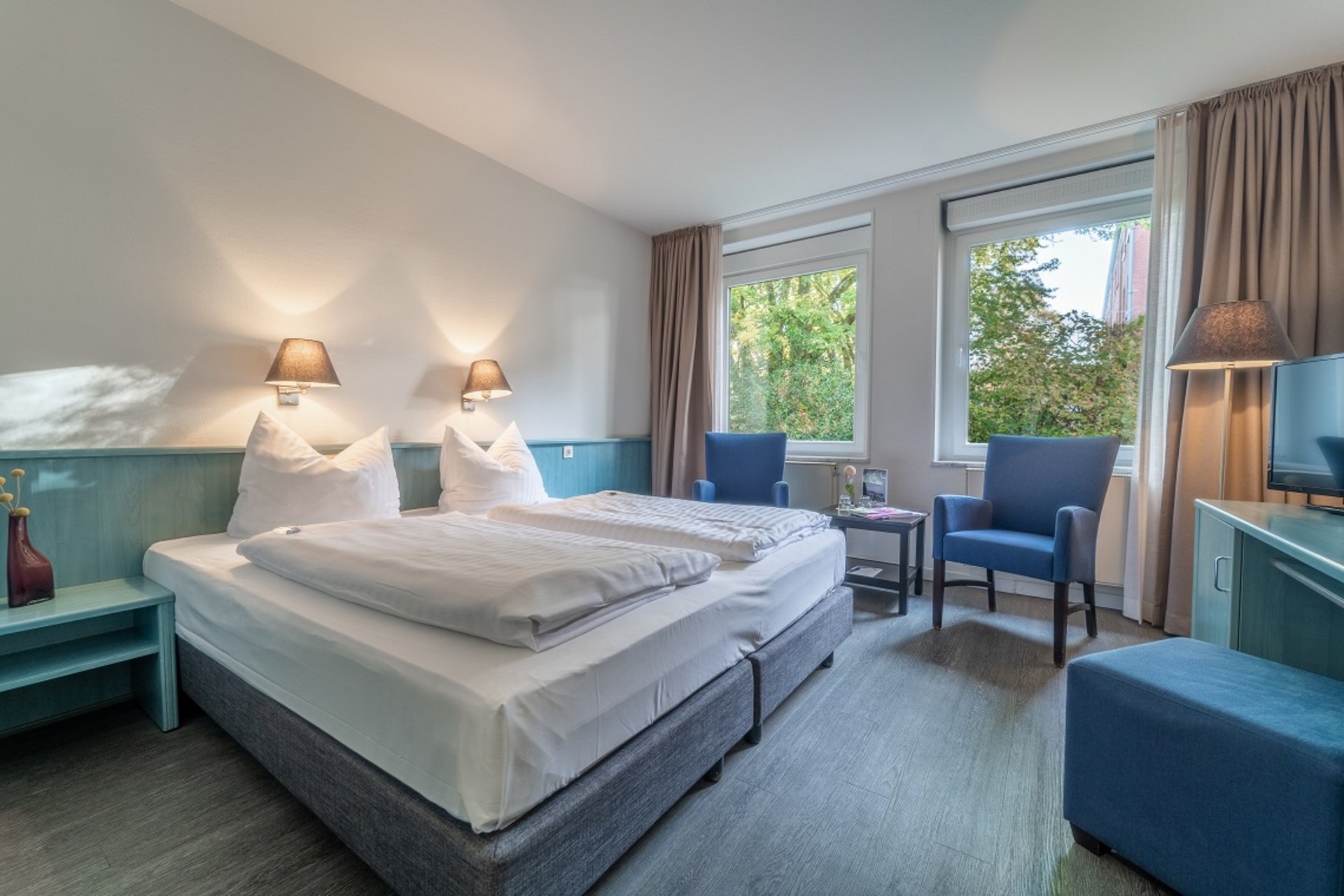 With our regional breakfast menu, most of which is served in organic quality, you can start the day well rested. Do you prefer vegan, gluten-free or lactose-free? We always have a selection ready here too. Just the way you like it.
Sustainability - Our affair of the heart
We do not use chemical cleaning agents and minimise waste, water consumption and energy. Our digital guest journey with self check-in, smartphone as room key, digital guest folder and invoice dispatch by e-mail saves us a lot of paper - and you a lot of time. Our entire sustainability commitment has been rated Level 3 by the Green Sign Institute.
The Hanseatic City of Hamburg: An Entertainment Professional
Vom Meeting direkt in die Natur
Whether business travellers or Hamburg holidaymakers. The surroundings of the Auszet Hotel are not stingy with attractions. The neighbouring Fischbeker Heide offers fantastic hiking trails, and in the nearby Rosengarten Regional Park you can also enjoy a wonderful bike ride or walk. If you fancy a ride on the Elbe & the dyke, grab one of our rental bikes and set off directly from the hotel in the direction of the Altes Land. Lots of fruit farms and cafes invite you to linger. Do you prefer the harbour or the Speicherstadt? The S-Bahn is only a 5-minute walk from the hotel.